First steps
In Business Central Projects are called Jobs.
Role Center​
In order to find the most important calls for use as quickly and easily as possible, the Role Center Project Administrator is available specifically for this purpose. In addition to the master and transaction data, the Job Billing and the history of posted documents can also be called up from here.
In addition, the Time Recordings to be released and the Time Recordings still to be posted are displayed for all Jobs in which the user is stored as Project Manager (in the field of the same name in the Job Card).
The Purchase Orders required and Accruals required tiles inform the user whether Purchase Orders for external service providers still need to be entered or accruals need to be created for services that have already been invoiced but not yet costed.
Via Help & Support (the ? in the upper right corner) this online help can be started.
Part My Jobs​
With the part My Jobs the user is given the possibility to save his currently active Jobs for direct access in a separate table as a favorite. Using the functions in the context menu, it is then possible to navigate quickly and easily to all Job-specific documents and functions within the project management at the click of a button. Clicking on the Job No. opens the Job Card. As soon as a Project Manager is entered in the field of the same name in the Job Card, the Job automatically appears in the Role Center part of this user. Manual maintenance of this overview is also possible.
Use of Services and Jobs​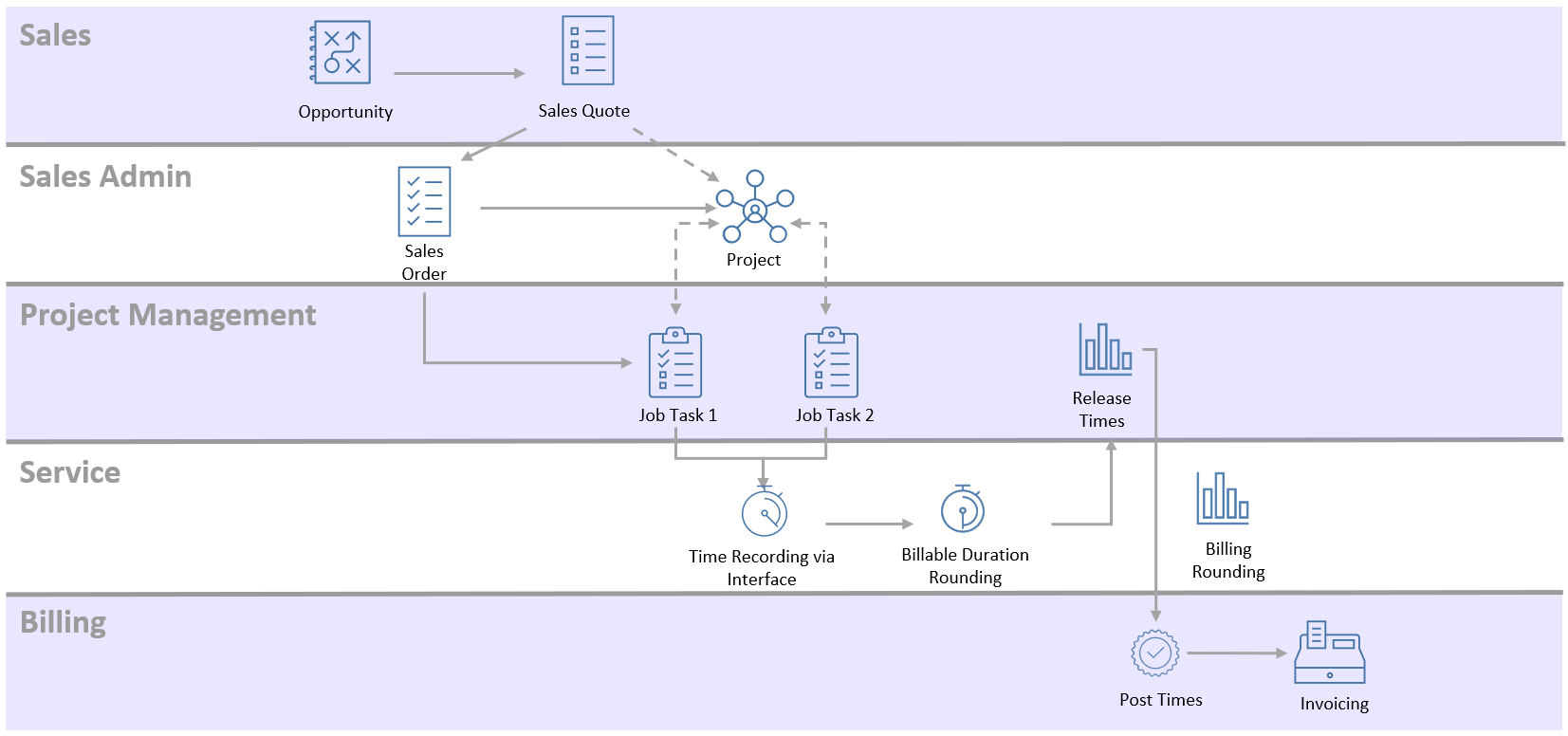 Basic business process​
The business process for Jobs and services can start in DYCE Job Billing with the creation of a Sales Opportunity, in the further course of which a Sales Quote can be created. It is possible to already link the quote to a Job. If known, special prices applicable to the Job can also already be entered in the Job. A Job Task to record the presales effort is also already useful at this stage.
After the customer has placed the order, further planning of the project components and the resource groups required for this is carried out on the basis of the project plan. Several options are available for an overview of current consumption during the life of a Job. For example, the standard reports of Business Central can be used. In addition, an Account Schedule can be created for the Job evaluation (within Business Central) or evaluations can be provided by an external BI tool.